UL94 V-0 Recognised Flame Retardant Air Filter
Flame Retardant Dust & Particle Filter
This unique Polyurethane Foam Air Filter has been developed by EMCEL for applications requiring components that meet UL94 V-0 Flame Retardancy Test.
UL File Number E329844 components – Search 'Emcel'
The filter is constructed using a strong, corrosion resistant, thermoplastically encased wire frame which is heat bonded to specially treated flame retardant filter media. The filter can be produced in virtually any shape or size and a range of foam media is available in a variety of porosities and thicknesses (6mm-13mm to be compliant with our file number).
Lightweight & Durable
Vacuum Cleanable
Corrosion Resistant
Slimline Rigid Frame
Virtually any Size / Shape
Typical Applications Include: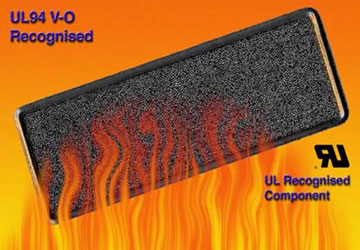 Find Out More
If you are not sure what filter you need, or require more information call us on 01403 253215 or send an enquiry.
One of our team of experts will be able to help answer any questions that you may have and advise you on the correct product for your application.