Cylindrical HEPA Filters
Cylindrical HEPA filters offer an alternative to panel filters where this format is more appropriate to the application, for example where a limited face area is available. Close pleated packs are normally moulded into rigid polyurethane circular end caps or encapsulated within preformed painted mild or stainless steel spinnings. Other materials can be specified. The pleated paper is protected on both faces by a mesh screen and sealing gaskets are provided to suit the application.
EMCEL Cylindrical HEPA Filters can be supplied incorporating the unique EMCEL Leaf Seal System which provides a superb, long term, air tight installation without the need for clamping mechanism.
Efficiencies of up to 99.999% can be specified and all filters in this category are individually tested and certified to BS 3928 – Sodium Flame Test Method.
These filters can be manufactured to match existing items or to meet new system requirements. Many differing caseworks / end caps are available in a variety of materials such as mild steel, aluminium, stainless or PVC.
Typical Applications Include: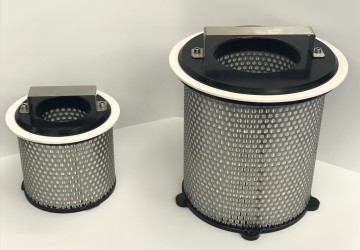 Find Out More
If you are not sure what filter you need, or require more information call us on 01403 253215 or send an enquiry.
One of our team of experts will be able to help answer any questions that you may have and advise you on the correct product for your application.