SONOXCARB for the removal of atmospheric pollutant gases
Activated Carbon Filter Unit – The damaging effects of atmospheric pollutants have long been acknowledged as a cause for environmental concern. EMCEL has researched and developed the use of activated carbon filters capable of reducing these atmospheric pollutants to acceptable levels.
The Sonoxcarb filter unit has been designed and manufactured as a result of these findings and the unit has demonstrated high efficiency performance in areas such as museums, art galleries, libraries and archive stores where control of atmospheric pollutant gases is critical for the prevention of corrosive damage to priceless artefacts.
The filter contains varying number of cells in V formation. All cells are manufactured with the unique honeycomb internal structure and filled with high quality impregnated grades for specific contaminants. Standard airflow capacities from 0.25 to 1.0 m³/sec, larger airflows can be accommodated by custom built carbon filter units designed and produced by EMCEL.
State of the art filters … for the arts of the State
Typical Applications Include
Museums
Galleries
Libraries
Archive Stores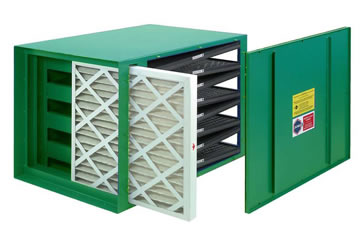 Find Out More
If you are not sure what filter you need, or require more information call us on 01403 253215 or send an enquiry.
One of our team of experts will be able to help answer any questions that you may have and advise you on the correct product for your application.