KATERCARB 2002 Carbon Filter
Considerable attention and emphasis has been focused on the catering industry to ensure that kitchen extract air is clean and odour free. Effective filtration of grease and particles from the extracted air will not always solve the problem of odours generated by cooking and catering.
These odours can often be controlled by installing a Katercarb 2002 filter unit in the extract system after grease/particles have been removal by a TRION Electrostatic type unit.
The Katercarb 2002 unit is designed to be used with the TRION T2002 unit and has the same face area dimensions for ease of duct work connection.
The height of the unit is also the same as the TRION T2002, allowing multiple Katercarb 2002 units to be stacked up to match TRION T4002, T6002 and T8002 dimensions.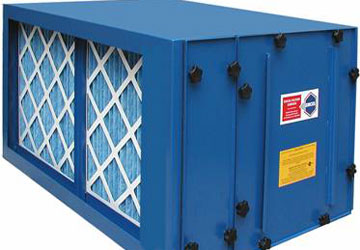 Find Out More
If you are not sure what filter you need, or require more information call us on 01403 253215 or send an enquiry.
One of our team of experts will be able to help answer any questions that you may have and advise you on the correct product for your application.