Pre-Filters
EMCEL manufactures a comprehensive range of Pre-Filters suitable for Pharmaceutical applications including:
Disposable Panel and Bag Filters
G2 Glass and G3 Synthetic disposable panel filters.
G4 Pleated panel filters: Medium efficiency pleated filters incorporating extended area media packs
HEF Pleated Panel Filters: F6, F7, F8 Fine Efficiency ventilation filters suitable for critical applications
Bag Filters F6 to F8: Multi-pocket design with synthetic media to achieve maximum efficiency and high dust loading capacities.
Minipleat Filters
Minipleat particle filter range is designed for applications where fine filtration is required, but not to the extent of HEPA filtration.
Minipleats are available in a range of filter frame/housing constructions, including aluminium, mild steel, stainless steel and fibreboard for cost effective panel versions.
Combination Panel Filters
Also available are 2-3 stage combination type panels. A polyurethane foam layer can be incorporated within the panel, together with a carbon impregnated pad to provide a good level of odour removal and particulate filtration.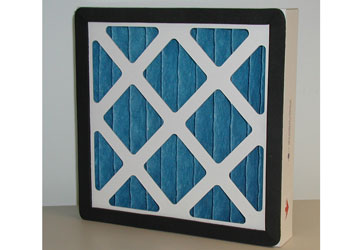 Documents
Related Products
Find Out More
If you are not sure what filter you need, or require more information call us on 01403 253215 or send an enquiry.
One of our team of experts will be able to help answer any questions that you may have and advise you on the correct product for your application.