Safe-Change Units
Custom designed air filtration units for critical applications in the Pharmaceutical and Chemical production sector.
Working closely with customers, EMCEL has designed many unique air filtration units to meet the stringent requirements of the Pharmaceutical and Chemical industries.
EMCEL will supply a complete package from concept design drawings to production and delivery. Housings, in a variety of configurations, are normally produced in stainless steel, although a selection of materials is available.
All units are supplied complete with filter elements (manufactured & tested in-house) and all the necessary safe-change bags and rings needed for first replacement.
Any following spares can be supplied on an agreed call-off basis if required.
Design requirements may include:
Shock Testing
High Pressure
Negative Pressure
High Temperature
Corrosive Air-Flows
Flushable Housings
Mounting Frames
Full Documentation
CE Marking
ATEX Compliancy
Material Certification
Weld Procedures
Dye Penetration Test
DOP Testing
Determine Safe-change procedure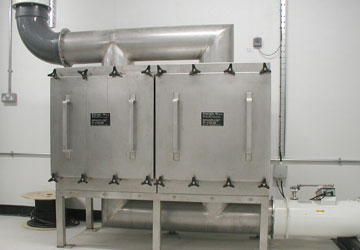 Find Out More
If you are not sure what filter you need, or require more information call us on 01403 253215 or send an enquiry.
One of our team of experts will be able to help answer any questions that you may have and advise you on the correct product for your application.