No.5 Mk.4 NBC Filter
The No.5 Mk.4 Filter is fitted within the CBRN systems of many different types of fighting vehicles, particularly where there is a physical space constraint and a small filter with a lower airflow is acceptable.
Manufactured and tested to UK MoD specifications this filter is in service with armed forces worldwide. Filter airflow is rated at 85 m³/hr.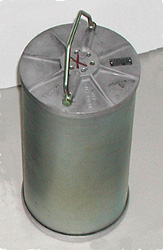 Find Out More
If you are not sure what filter you need, or require more information call us on 01403 253215 or send an enquiry.
One of our team of experts will be able to help answer any questions that you may have and advise you on the correct product for your application.