Our EMCEL Maxicarb Units are designed for applications that require heavy duty performance.
The Maxicarb Carbon Filter has been developed to remove and control a wide range of chemical vapours, odorous and toxic gases from airstreams where critical, high efficiency filtration and heavy duty performance is necessary.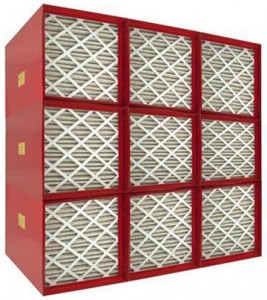 The high quality activated carbon grades used in Maxicarb filter units are capable of adsorbing a wide cross section of gas / chemical pollutants and when coupled to high carbon loading, enables the unit to perform in many critical applications where standard carbon filters would prove inefficient. This includes Waste Waster and Landfill sites.
Unlike some of our competitors EMCEL use Granular Carbon which allows for a bigger adsorption area for odour removal, making our filters longer lasting and more cost effective in the long run.
The filter contains varying number of cells in V formation. All cells are manufactured with the unique and patented honeycomb internal structure and filled with high quality carbon including impregnated grades for specific contaminants.
Our units are designed to accommodate various airflows to suit specific purposes. Housings are designed in a range of construction materials, with numerous connection options and ancillary products tailored to your needs.