Mobile Filter Units
Mobile Filter Units (MFU) and Mini Mobile Filter Units designed and manufactured to meet the requirements of the Nuclear Industry.
Typical unit consists of: Cylindrical 950 l/sec HEPA safe-change containment housing, fan, control box and pre-filter, all mounted on a wheeled chassis.
As standard, the units are produced in mild steel, finished with a two-pack epoxy paint finish. 220/240V single phase or 380/440V three phase versions available.
Other options include:
Inlet/Outlet Dampers
Variable Flow Fans
Differential Pressure Switches
Filter Test Points
Carbon Filters
These units can be configured to suit individual applications.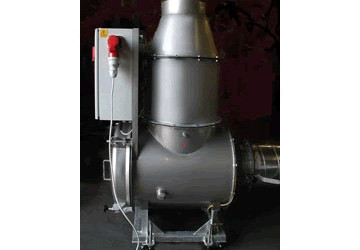 Find Out More
If you are not sure what filter you need, or require more information call us on 01403 253215 or send an enquiry.
One of our team of experts will be able to help answer any questions that you may have and advise you on the correct product for your application.