Divided Bed
The Emcel Divided Bed Activated Carbon Filter is designed to provide very high performance adsorption of toxic and radioactive contaminants.
The filter incorporates deep bed carbon cells manufactured to the same unique patented design construction as EMCEL standard activated carbon filters. The tortuous path followed by the contaminated air through the individual cells, ensures toxic removal efficiency significantly higher than is provided by standard activated carbon filters.
EMCEL Divided Bed Filters are the result of continuous research, development & collaboration with the Nuclear and Chemical industries.
When employing EMCEL Divided Bed Carbon Filters, it is not uncommon for decontamination factors in excess of 50,000 to be experienced in the removal of Radioactive Isotopes
Standard Divided Bed Activated Carbon Filter (610 x 610 x 292 mm) rated at 0.283 m³/sec.
Applications include:
Nuclear Power Generation
Isotope Production
Laboratories / Research Units
Oil and Petro-Chemical
Pharmaceutical Plants
Fume Cupboards
In addition EMCEL manufactures Triple Bed Carbon filters with housings in a variety of materials.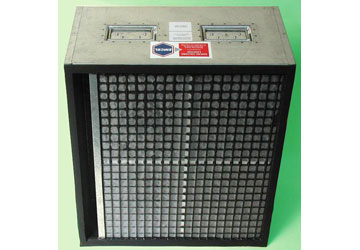 Find Out More
If you are not sure what filter you need, or require more information call us on 01403 253215 or send an enquiry.
One of our team of experts will be able to help answer any questions that you may have and advise you on the correct product for your application.