Containment Systems
Designed to meet the performance requirements of NF 0153/1
Rectangular Containment Systems
Available in a range of constructions: 316/304L Stainless Steel or Painted Mild Steel, EMCEL containment housings can be designed and manufactured to suit almost any airflow.
Systems can incorporate the following:
Pre-Filters: Ranging from G2 to H10 efficiency depending on particle size distribution. Available as safe change if required.
HEPA Filters: Individually tested to suit customer requirements; BS3928, EN1822, or volumetrically/scan tested against 0.3 micron. Available as safe change if required.
Carbon Filters: The patented EMCEL Divided Bed© system can be used to provide high performance adsorption of toxic and radioactive contaminants. A range of standard/impregnated grades can be utilised depending on contaminants present. Again available as safe change if required.
Cylindrical Containment Systems
EMCEL cylindrical containment systems are designed and manufactured to house circular plug-in filter elements that meet the requirements of ES_0_1737_2  (formerly AESS 30/95100). Individual modules can be designed to suit any airflow including 75, 160, 470 and 950 l/sec.
316/304L stainless steel and painted mild steel are available as construction options for the housings. Inlet/Outlet configurations can be manufactured to suit on-site pipework.
Larger airflows can be accommodated by creating multi-banks of 950 l/sec cylindrical housings.
Cylindrical or Rectangular Housings Available
Stainless Steel or Epoxy Painted Mild Steel Options
Individual Housings or Multi-banked Systems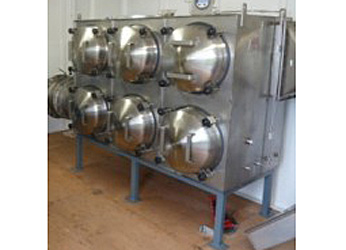 Find Out More
If you are not sure what filter you need, or require more information call us on 01403 253215 or send an enquiry.
One of our team of experts will be able to help answer any questions that you may have and advise you on the correct product for your application.