Particulate filtration can occur at almost any stage in an HVAC system. This means that EMCEL manufacture a range of units depending on the requirements of our customers, including Air Intake, Extract Air and  In-line filtration.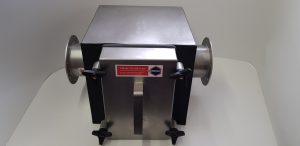 The unit above is one of our In-line Units. This unit is designed to take a flow rate of 0.25m³/s and also has a safe change facility to protect the team during filter changes. This specific filter has an F7 filtration efficiency and is also hydrophobic. Please note, in the image below the safe change facility is not in use – this is to illustrate the design of the filter and unit when the door is removed. In a working environment there would be a safe-change bag in place.
If you need particulate filtration for your HVAC system please contact our Technical Sales Team on 01403 253 215 or email us at info@emcelfilters.co.uk to discuss the options.