Chemical, Biological, Radiological and Nuclear Filtration is vitally important in protecting our military personnel and at EMCEL we pride ourselves on our high quality filters manufactured on-site. 
To ensure the effectiveness of the CBRN filtration a manufacturing and testing specification is followed, this includes STANAG44447 and, more recently, AEP54.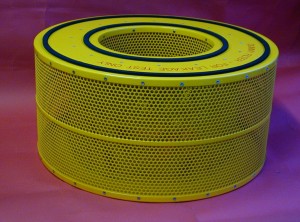 Since 2009 EMCEL have been independently testing materials in order to satisfy the requirements of AEP54. As a result of this work EMCEL can now meet the gas test requirement of Edition 1 AEP54 (2011) for all essential contaminant levels and for all but one gas at desirable levels.
EMCEL also produce Training filters utilised to run normally when CBRN protection is not required. Utilising Training filters for testing, training and in no-threat situations reduces the usage of real filters, thus giving considerable  cost savings. Features include replication of weight, pressure drop and optional HEPA filtration if required.
To view our range of CBRN Filters please use the link here or if you would like a quotation please get in touch with our Sales Team on 01403 253215.