HEPA is an acronym for High Efficiency Particle Arrestance and there are various levels of HEPA filtration depending on the % of particulates you wish to filter.
It is not enough to just use HEPA approved media in your filter to get HEPA filtration, although the media may be rated at a set efficiency. The Filter build and system is essential to achieving the required values and ensuring no bypass is possible.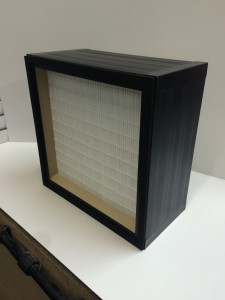 EMCEL do not batch test HEPA filters, each filter is individually tested and serialised to meet customer requirements. Sodium Flame Test (BS3928) and DOP (EN14644) test facilities are available at our works in Horsham, West Sussex. Additional airflow, differential pressure, dust loading and temperature testing have been undertaken on filter designs.
Do not be fooled by 'HEPA-type" filters, these are filters that may be cheaper options and visually replicate a HEPA filters but will not provide the high levels of contamination removal required.
EMCEL HEPA Elements are manufactured to order and this allows us to provide a wide range of size options, from the industry standards to more bespoke filter designs.
For more information on our HEPA filters please click here or contact our sales team.